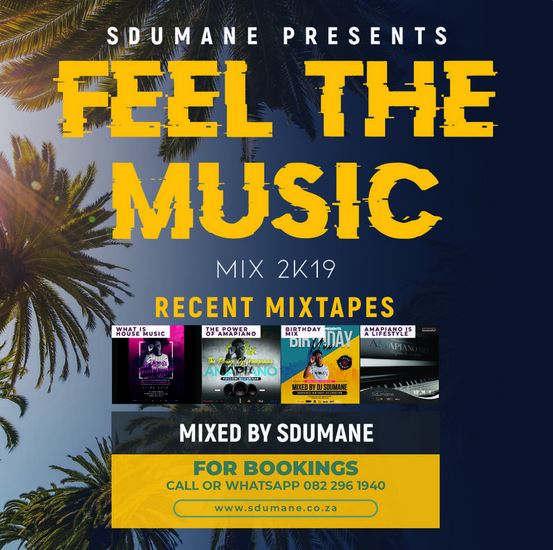 Sdumane Feel The Music Mix 2k19 Mp3 Download
Sdumane Feel The Music Mix 2k19 Download Mp3 Fakaza. Here comes this dope fresh mix from Sdumane which he calls Feel The Music Mix 2k19.
Track List
1.Jim Mastershine ft Tee-R & Afro Brotherz Afrikan_Love Being African (Afro Brotherz Afrikan Mix)
2.Chymamusique Feat. Teejay & Fedesax_Gift Of Life
3.Themba_Ilembe(Original Mix)
4.Nelo HD ft Madam Kay_Break Me (Original Mix)
5.Cubicolor_No Dancers (Adam Port Remix)
6.Malumz on Decks ft TOSHI_Inhliziyo
7.DJ Bonus_Midnight Conversation
8.DJ K1 Feat. Jackie Queens & Benny T_The Reason (Aimo Remix)
9.Echo12inch ft Michael _Choices (Drummatic Mix)
10.Oscar P_Wait Here (Enoo Napa Remix)
11.Malumz on Decks ft KB Motsilanyane_Taba Tsa Ha
12.Dakalo Mbedzi_Marumbudane (Pa Amas Afro Remix)
13.Vanco ft Troymusiq_Yana Pula
14.Kususa & Argento Dust_Incwadi Encane (Original Mix)
15.Shimza_Surrender (Club Mix)
16.Mshudu Feat Inno_Amabele (Saint Evo Remix)
17.Afro Exotiq & Vida Soul_Power Pool
18.Stones & Bones_Mirunzini Ya Lufu
19.Vanco ft Teejay_Amadlozi(Original Mix)
20.Dj Lesh SA ft Sekiwe_Ndoda (DJ Nova SA Remix)
21.Afro Warriors_Same Answer
22.Dr Moruti_Redemption
23.Shimza Feat Kususa_Kunye(Original Mix)
24.Luminous DeeJay _SekuNgenaLuminous(Senziwe)
25.Saint Evo ft Ch!NJoNG x Ch!NJoNG_Mantra (Original Mix)
Stream, Listen and Download Below.