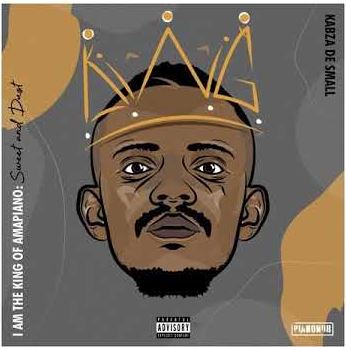 Kabza De Small I Am The King Of Amapiano Sweet & Dust Album Track List
I Am The King Of Amapiano Sweet and Dust. Kabza De Small the SA Amapiano music act releases his 27 tracks album "I am the King of Amapiano: Sweet & Dust".
Of a truth, this is the first album in South African music industry history to occupy the first 26 spots of the top 30 music charts.
This latest album consolidates the fact that Kabza De Small is the real King of Amapiano.
The album features the likes of South African voices such as Daliwonga, Mlindo The Vocalist and rappers Focalistic and Cassper Nyovest, as well as African superstars WizKid and Burna Boy.
Check out the track lists Below.
1: Kabza De Small – Sthandwa Ft. Tyler ICU & Nicole Elocin
2: Kabza De Small – Buyile Ft. Madumane, Daliwonga & Nia Pearl
3: Kabza De Small – Sponono Ft. Wizkid, Burna Boy, Cassper Nyovest & Madumane
4: Kabza De Small – Thinking About You Ft. Mlindo The Vocalist & Dj Buckz
5: Kabza De Small – Nia Lo Ft. Nia Pearl
6 : Kabza De Small – Wena Ft. Howard & Nia Pearl
7: Kabza De Small – Duze Ft. Samthing Soweto
8: Kabza De Small – Need You Tonight Ft. Wizkid
9: Kabza De Small – Ndofaya Ft. Daliwonga
10: Kabza De Small – Indoni Yamnzi Ft. Daliwonga, Nia Pearl & Bongza
11: Kabza De Small – Why Ngikufela Ft. Sha Sha & Madumane
12: Kabza De Small – Impilo Ft. Kelvin Momo & Kopzz Avenue
13: Kabza De Small – Mapiano Blues Ft. Howard, XolaniGuitas
14: Kabza De Small – Many Faces Ft. Howard, XolaniGuitas
15: Kabza De Small – Blow My Mind Ft. George Lesley & Earl W Green
16: Kabza De Small – iLog Drum Ft. Daliwonga
17: Kabza De Small – Masupa Ft. Focalistic, Madumane & Bongza
18: Kabza De Small – Ipiano Wave Ft. Daliwonga, Mdu Aka Trp
19: Kabza De Small – Qula Ft. Daliwonga & XolaniGuitas
20: Kabza De Small – Dlala Kabza Ft. Vyno Miller
21: Kabza De Small – Dust Ft. Leehleza & Focalistic
22: Kabza De Small – Rabu Chupa Ft. Focalistic
23: Kabza De Small – Sam Sokolo Ft. Vyno Miller & Bontle Smith
24: Kabza De Small – Balanc'ise Ft. Daliwonga
25: Kabza De Small – Into Yellow Ft. Daliwonga
26: Kabza De Small – Izolo Ft. Nia Pearl & Daliwonga
27: Kabza De Small – Jwaleng Ft. Dj Buckz